Recently in the UK, a leading AGRR company, AutoGlass, just opened a new ADAS calibration center. A location dedicated to ADAS calibration staffed entirely by specialists in that field. With the growing number of questions surrounding who can perform ADAS calibration correctly for U.S drivers, calibration centers such as these are an intriguing answer.
ADAS Calibration Centers
According to the article on FleetNews, AutoGlass has "... a national network of 29 static calibration sites." With their goal being to have enough calibration centers that their customers do not have to drive more than 15 minutes to their ADAS enabled vehicle recalibrated after a replacement.
While this strategy for AutoGlass is geared more towards keeping their customers using their services for both replacements and recalibration it does pose an interesting possibility for handling calibrations in the United States.
Why ADAS Calibration Centers Could Help Both Shops and Drivers
By having trusted calibration centers stocked with experts and outfitted specifially for ADAS calibration, and auto glass shop could partner with these centers and refer customers there after replacing a windscreen in ADAS enabled vehicle to get their recalibration done. Very much like an auto body shop may outsource or refer someone for auto glass replacement.
This kind of strategy could server several purposes. It gives auto glass shops a chance to compete with replacement centers that may also offer calibration as part of their services. Recalibration is a delicate process and requires a lot of investment both in expensive equipment as well time in training and certification that many smaller shops may not be able to afford.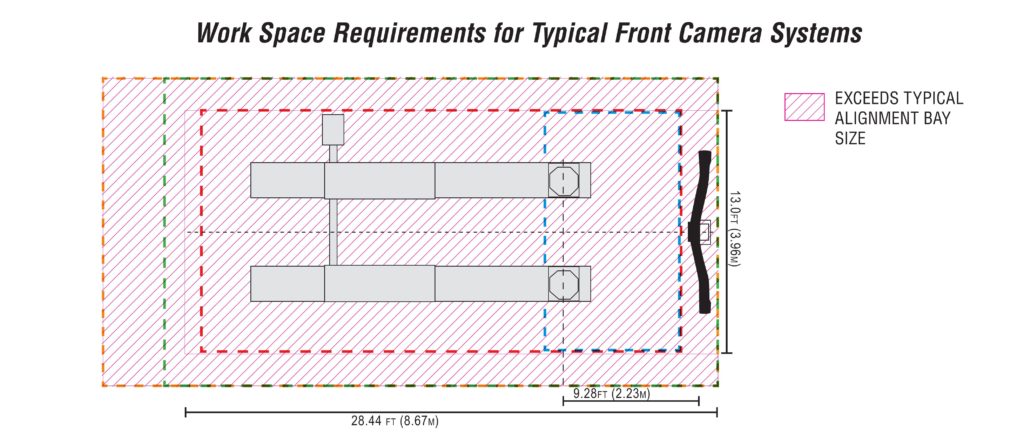 This image above from Repairer Driven News shows the typical space requirements for a proper recaibration. They say "the technician may need several feet open in front of, or to the side of, the vehicle." Beyond the spacing, there are other requirements to keep in mind as well such as the car needing to be on a flat surface and having proper lighting that is not overly dark but doesn't cause large shadows either. These conditions are tough to control for a smaller shop that doesn't have a large facility or does mostly mobile work.
Secondly, a center dedicated to and built for ADAS recailibration offers more peace of mind and security for the customer that needs their vehicle recalibrated. Even with the proper equipment and training a shop that offers ADAS as an additional service would likely not be able to offer recalibration on the same level as a business or center dedicated to the practice.
Specialization in ADAS Could Better Serve Drivers Needs and Lead to a Better Customer Experience
As we have mentioned and shown in several of our recent articles. ADAS is a growing technology and concern within the auto glass industry. In fact almost the entire Wednesday of Auto Glass Week is dedicated to dealing with ADAS and it's impact on the industry.
One option that could be worth exploring to help the industry best serve customers with ADAS vehicles is creating and partnering with ADAS calibration centers. Let auto glass replacement shops do what they do best and have a dedicated ADAS specialist handle the recalibration.